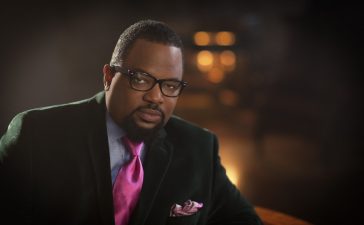 Hezekiah Walker has been on the gospel music scene for more than 20 years. On June 11, he will release his 14th CD, Azusa The Next Generation.
Although gospel music has gone through many evolutions, Hezekiah Walker has remained relevant while not sacrificing his signature choir sound that has touched the hearts of so many through the years. The first single, "Every Praise" has already become a hit.
In this in-depth interview, Hezekiah Walker talks about the album, his song choices and the role the Azusa Street Revival of 1906 played in the album's creation. What emerges is a man who is passionate about choirs and even more passionate about God and communicating the message of the gospel through song, and more specifically, choir music.
Every Praise
Your single, "Every Praise" is grabbing everyone's attention.
I'm always amazed. It seems like every time I put something out people respond in a major way and this time around they did it again. It's a little difficult staying relevant. I believe if you keep your ear and your heart to the heartbeat of the church to the season of which the people of God are in, I think you will come up with some great songs that will stay relevant.
What drew you to this song?
When he (David Bratton) gave it to me it really spoke to my heart. A lot of times we take credit for a lot of things that God has done in our lives and I realize that without him I would not be. The scripture says in him we live and move and have our being. So anything and everything that has happened for me I can't take credit it for it. Every door that has opened, God is behind that door. Everything that has happened to me God has been behind it and we have to give credit to Him. We're living in a season now where it's all about me, but it's not about us, it's about God. So when I heard the song it was like, every praise belongs to our god, everything that comes our way. I took the song to remind everybody that it's not about us, every praise belongs to our God.
Azusa Street
You named the album after a very pivotal moment in Pentecostal history. Looking at that rich history what's different for the next generation and what are the challenges?
I think the challenges change. I was very intrigued about that movement. I did some research and I did some listening. A lot of times we focus on the fact that they were receiving the baptism of the Holy Spirit and that whole Pentecostal movement, but I believe that it was more than that. I believe that was one of the manifestations; the dancing and the music, the shouting and the all night prayer, the shut-ins. I believe that all that was part of it but one of the things that they were praying for and I think a lot of people miss is they were praying for change in racism. That was a big thing back there, because of the Jim Crow laws and everything. And this one man, this one black man (William Seymour) called that revival on Azusa Street. Everybody from all different denominations, all races came under that one roof to promote and pray for change. I chose Azusa for a lot of reasons, but one of the main reasons that I chose to name it Azusa The Next Generation, because I really believe that gospel music in this season should be a breath of fresh air for the community. I believe that it should not only pierce the heart, but it should promote change.
The Album
Why was Donald Lawrence the right person to co-produce this project?
We basically share the same vision, we talk a lot, and we collaborate a lot. He's from that Pentecostal background as well. We really wanted to really show another part of Pentecostal living than just the norm. One of the main reasons I chose him is because everyone knows I'm a choir man. I love choirs and I promote choirs. I love the choir sound. I don't think no one out there produces and knows choirs better than Donald Lawrence. He knows the sounding of the choir, he knows what I want. He knows what the choir needs, he knows what the people need and he's a choir man himself.
You've got a lot of great songs on the album, which ones speak to you the most?
The song that stands out the most is "More Than A Conqueror." I love the song, the lyrics and the lead. Timiney (Figueroa Caton) to me is like the Gladys knight of gospel to me. That whole song really encourages me and makes me to believe that I've come a long, but there's some more that's getting ready to come my way and the Lord has made me a conqueror over it. I'm going to get it, I'm going to conquer it.
Timiney Figueroa-Caton; Deitrick Haddon; John P. Kee; Donnie McClurkin and Brian Courtney Wilson are all on the album. How did you go about selecting the collaborations?
Back in the late 80s, early 90s there was a conference called Azusa and Carlton Pearson was over that conference. A lot of the new people don't know that the Azusa Conference was a major classroom. Every singer wanted to be on that platform, every preacher. One of the things that I used to love about the Azusa Conference is that they used to record and put different artists on the CD. They would come up with major collaboration. I went to Carlton Pearson, of course he's moved on, but I wanted to pick it back up. So I went and I got his blessing. I just went in and mimicked what he used to do. So when I heard all the songs, I wanted to use certain artists for the song and I picked the artists that I felt the song would suit them and they would bring something unique to the song.
You've also included "Break Every Chain" that features Deitrick Haddon.
When I first heard the song I heard it from Jesus Culture and I said "wow that's a wonderful song." Because I'm a choir man I wanted a choir to do it, give it that choir sound. Tasha called me because she heard I was going to do it. I told her to go ahead because I'm doing a remix. Tasha recorded it and did a great job with it, but I wanted to do it and put a different spin on it for a choir. Even though she's doing it, there's a different sound when a choir does it. I picked Deitrick Haddon because he's a choir man. He started out in the choir, that's his thing. So the song is a spin-off from Tasha Cobbs.
Remembering Bishop Moales
You have dedicated this CD to the late Bishop Kenneth Moales
Bishop was my mentor; he was my pastor; he was my friend. Before he made his transition, he poured so much in all of us. I remember when he first took me to the Thomas Dorsey Convention. That's where I got my first platform, it was a great experience. From that point Bishop began to teach me about gospel music, about the church. Everything he gave out, I embraced it. I wanted to dedicate this album and this particular song to him because Bishop was big on the church, he was big on old school. Sometimes all of us that are coming up in gospel music , especially the new people that are on the scene now, sometimes when they think about the handclapping, foot-stomping, how we were trained to do years ago , sometimes they put thumbs down on it. But Bishop taught us that you cannot really enjoy the new without embracing the old. I am all about being relevant.
This is a new time; a new season. This is a new generation and I embrace them but there would not be a new generation without foundation. If you leave the foundation, there's nothing to build upon, so we have to keep the foundation. We have to be rooted and grounded in the old school every now and then. I think it's good that we go back and grab something from the old school and make it relevant. That's why we came up with this song. It's old school, but we made it relevant to the point where I have to listen to it. You're going to have to clap your hands you're going to have to open your mouth and of course the war cry is relevant. He started that whole war cry thing; everybody's doing the war cry so we had to put the war cry on that song. And so that a new generation can listen to that and say 'wow that's good' and we can say to them 'that's old school.'
Hezekiah Walker's Azusa: The Next Generation debuts June 11.
Tags:fresh air, gospel music, Hezekiah Walker, Hezekiah Walker Every Praise, walker interview, whole song