PositivelyGospel.com is a music news magazine that is quickly becoming the premier destination and trusted source for gospel music, news and information. The site covers all genres of gospel and inspirational music, including Contemporary Christian and Christian rap/hip-hop.  The mission is to provide news and information on a positive note.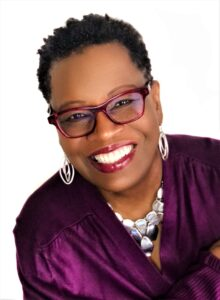 Sarah Hearn is founder/Editor-in-Chief of PositivelyGospel.com. She is a dedicated journalist, who believes her audience deserves more original reporting than repetitive content, Sarah founded PositivelyGospel.com to provide readers with the latest music news, concerts, reviews,  and interviews with top ranking Christian/Gospel artists and emerging artists.
Widely known for her on-the-scene reporting, her coverage includes the GMA Dove Awards, the Stellar Awards, Grammys on the Hill, Gospel Music Heritage Month Celebration Concert, McDonald's Inspiration Celebration Gospel Tour, St. Jude Celebration of Hope, Congressional Black Caucus Annual Legislative Conference and many more. Sarah participates in weekly White House Faith and Community Engagement calls where she gathers information relevant for dissemination to the Gospel and faith community. She recently launched the podcast, "On A Positive Note with Sarah Hearn" available on Apple Podcasts, Spotify and other platforms.
For more than five years, Sarah served as the DC Gospel Music Examiner at Examiner.com where the site garnered more than 150,000 readers in the US and around the world. Sarah was named one of the Top Ten Heroes in Gospel Music in the Washington, DC area in 2012 for her extensive coverage, support and commitment to artists within the D.C. metro region. In 2016 she was named Person of the Month by IndiMogul Magazine. The site was recently named among Feedspot's Top Gospel and Christian Music Websites. Sarah is a member of the National Association of Black Journalists and the Gospel Music Association.
Sarah resides in a suburb of Washington, D.C. Follow her on Facebook @PositivelyGospel.com, Twitter @PositiveGospel and ready writer on Instagram
For coverage of your next event or to submit a press release for posting consideration, contact Sarah.