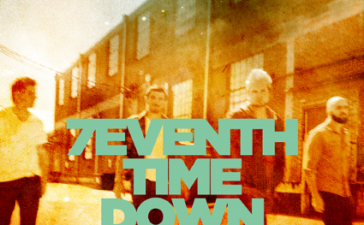 The Kentucky-based foursome 7eventh Time Down has already gained an enthusiastic following with their 2011 debut, Alive in You. On Sept 3, Mikey Howard (vocals), Cliff Williams (bass), Eric Van Zant (guitar) and Austin Miller (drums) have made a triumphant return with their sophomore release, Just Say Jesus.
The album immediately made an impact on the iTunes Christian Gospel chart, breaking into the Top Ten. A sure that this album has struck a chord with old and new fans alike. Just Say Jesus lives up to its name as it is an album filled messages that point heavenward.
The title track, which is climbing the charts, is unashamedly rock, but also has its more gentler moments. It is on this song that the group their ability to create music that can reach across to capture those who love a little rock in their music while absorbing the straight-forward message the lyrics communicate: "When you don't know what to say / Just say Jesus / There is power in the name / Just say Jesus."
"Good Life" is reminiscent of a song you may find on an earlier Switchfoot album with his driving beat and verbal cadence as he begins. "Nothing to Give" slows things down a bit as it entreats Jesus to fill them to replace the emptiness. "Religious and Famous" is a nice song that shifts the spotlight from them to Jesus "We are the ones who will remain nameless."
The band co-wrote most of the songs, no doubt they are reflections of lessons learned along the way and it has all crystallized in this offering as they encourage us to join them and Just Say Jesus.
7eventh Time Down hits the road this fall. Based on this set of songs, an opportunity to see the group perform live should be on the top of any music lover's to-do list.
Picks: "Just Say Jesus," "Nothing to Give"